Restorative Dentistry
Crowns, Onlays and Bridges
Crowns and onlays are an option for teeth that show breakdown due to decay or trauma. In this procedure the decay or diseased portion of the tooth is removed. If there is enough breakdown where the structure and strength of the tooth is compromised a crown is the best option.  Crowns usually cover the whole tooth and fit on like a cap. An onlay is used when the whole tooth structure is not compromised and are used as a more conservative option.  A bridge is similar to a crown expect it covers multiple teeth and is used to replace missing teeth.  Bridges are one of the options to replace missing teeth along with partial dentures and implants.  Each patient case is looked at individually and the best options are discussed.  Crown and Bridge procedures involve two appointments, one for the preparation of the tooth, and another for the delivery of the crown. 
Dentures/Partials
Dentures are made for patients that are missing all or some of their teeth.  These prostheses are removable options.  The fabrication process includes getting impressions of your soft tissue, picking custom teeth, custom placement of those teeth for the best esthetics and function then additional adjustment appointments to provide for a comfortable fit of the dentures.  Partial dentures can be made to replace teeth if you still have some natural teeth.  These prostheses are supported by your natural teeth and help to add function or esthetics to your current situation.  Dental Implants can be used to help anchor these type of removable dentures and provide for better stability.
Fillings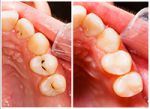 Fillings are done when disease or decay is seen in a tooth.  The decay is removed from the tooth and the tooth is prepared to allow for the proper form for the filling.  All filling materials are sensitive to liquids are saliva so the area will be isolated from moisture.  After isolating, the tooth structure lost to disease will be replaced with a material that is shaped back to the original form.  This material will replace the function of esthetics that may have been compromised by the previous decay in the tooth. 
Emergency Treatment

At Mashni Dentistry our dentists are here to treat your dental emergencies and help you get back to normal.  
It is our practice to treat emergency patients that same day or make arrangements for you to be seen at your convenience. Do not hesitate to call our office.